Ecosmith Recyclers, Inc. in makes recycling fundraising  in New Hampshire easy through textile recycling, and we offer several different options. We are very flexible in helping your organization raise much needed funds.
Fundraising in New Hampshire Option 1: Sponsor a Recycling Bin
We Provide at no cost to you:
 An attractive and secure collection container.
All associated signage
 Regular and timely pick up of collected materials.
A certificate of insurance upon request
 A quarterly payment based on the quantity of materials collected
Your Organization:
 Identifies a suitable collection site
 Obtains permission from owner
Promotes the program through newsletters, Facebook, and other social media avenue
---
Fundraising Option 2: Shoe Drive
We provide at no cost to you:
 A collection container or enclosed trailer, depending on circumstance
 Pick up of collected materials
 Payment within two weeks of shoe drive ending
 Certificate of insurance
Your Organization:
 Chooses a period of time (typically a 2-4 week period) and identifies dates of drive.
 Advertises in advanced and during drive.
 Collects materials and places them in provided container for pick up.
Materials collected during a "shoe" drive include:
 Paired footwear: shoes, boots, sandals, slippers, and flip flops, heels, sneakers
 Belts
 Pocket books, purses, and backpacks
---
Fundraising Option 3: Periodic Recycled Clothing Drives
This is an event over a specific period of time.
 Your organization collects the acceptable materials, Ecosmith picks up the recycled materials at your location
 We will provide container/trailer
 We pay you within 2 weeks of pick up
---
How to Get a Recycling Receptacle at your Location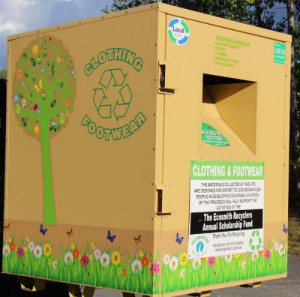 It's easy and FREE to have an Ecosmith textile recycling receptacle at your location in New Hampshire and Massachusetts.
Three Easy Steps:
Contact us:
Call us at 603-647-1088, email us at info@ecosmithrecyclers.com, or complete the form below.
We provide, at no cost to you, a quality collection container, a certificate of insurance, and the necessary signage.
Quarterly, we will send you payment based on the materials collected – it's that easy.
For you there is no selling of goods, no annoying phone calls, no solicitation – although it doesn't hurt to mention your program in your school's newsletter.
---