It's easy and FREE to have an Ecosmith Recyclers textile recycling receptacle at your location in NH and MA!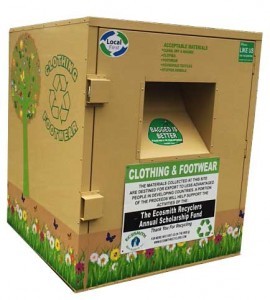 Three Easy Steps to getting your FREE recycling receptacle:
Step 1: Give us a call at 603-647-1088, email at info@ecosmithrecyclers.com, or complete the form below.
Step 2: We provide a free quality collection container, a certificate of insurance, and the necessary signage.
Step 3: Quarterly, we will send you payment based on the materials collected – it's that easy. No selling of goods, no annoying phone calls, no solicitation – although it doesn't hurt to mention your program in your school's newsletter.
Request a Recycling Receptacle
[ninja_forms id=1]