It's convenient, easy, and FREE to have an Ecosmith Recyclers clothing and shoe recycling bin!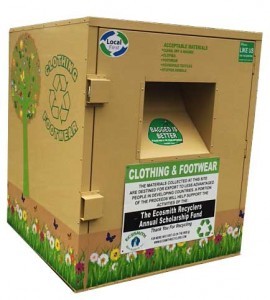 Hosting a recycling bin at your business, school, transfer station, or any other suitable site is as simple as filling out the form below.
Make an impact locally, nationally, and internationally by hosting an Ecosmith Recyclers bin today. Doing so helps to keep millions of pounds of material out of our local waste stream every year. At the same time, it provides much needed clothing, shoes, and textiles to people all over the world.
Best of all, it costs you absolutely nothing.
If you are interested, we will provide a free collection container and proof of insurance. On a regular schedule, we diligently service each of our bins. It is our goal to meet and exceed your expectations, and we work hard to do so. And on a quarterly basis, we will mail a check to the beneficiary of your choosing for a percentage of the proceeds from the total volume of material collected.
The only thing you have to do is agree to host. We take care of everything else.
It is that easy.
Host an Ecosmith Recyclers Bin
Please complete the form and we'll be in touch!
Prefer to host a clothing and shoe drive? Let us know!