It's convenient, easy, and FREE to have an Ecosmith Recyclers clothing and shoe recycling bin!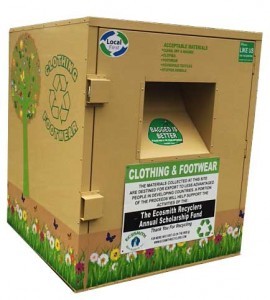 Three Easy Steps to getting your FREE recycling receptacle:
1st: Give us a call at 603-647-1088, email at info@ecosmithrecyclers.com, or complete the form below.
2nd: We provide a free quality collection container, a certificate of insurance, and the necessary signage.
3rd: On a quarterly basis, we will send you payment based on the volume of material collected. It is that easy. No selling of goods, making annoying phone calls, or soliciting your coworkers, friends, or neighbors. Although, it doesn't hurt to mention your program in your school or town's newsletter.