Whether you represent a shelter, veterans association, food pantry, youth sport league, club, or any of the many other non-profit groups, there is one thing that everyone has in common: a need to fundraise.
If you want to do something that makes an impact socially and ecologically, then give us a call. We can help!
One of the easiest methods for ongoing fundraising is to sponsor an Ecosmith Recyclers bin. Our bins are located throughout New Hampshire and into Massachusetts, Maine, and Vermont.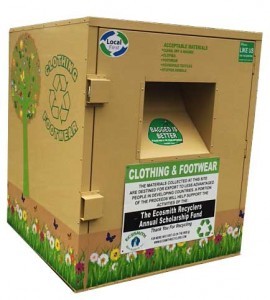 If you have a location in mind that has potential to serve as a host, let us know. Should the location prove to be a suitable site, your group can serve as the sponsor. Checks are then sent out quarterly based upon the total weight of all material collected at that site.
It is a time-tested, near-zero-effort, hassle-free, and ongoing fundraiser! Our partners receive checks that range from hundreds to thousands of dollars annually simply by sponsoring a bin.
All you need to do is locate a suitable site and obtain permission to place a bin. Then, we take care of everything else. It's simple and free, so let us know if you're interested!
What makes a location ideal?
Highly visible
Accessible 24/7
Safe and convenient for the general public
Safe and convenient for Ecosmith Recyclers collection
High traffic areas (transfer stations, plazas, supermarkets, drugstores, gas stations, schools, churches, malls, restaurants, etc.)
We will gladly look into any location to determine its potential as a host site.
Interested in hosting a bin? Let us know!
Sponsor an Ecosmith Recyclers Bin