Ecosmith Recyclers Inc. New Hampshire Recycling
Ecosmith Recyclers Inc is a sustainable, locally owned, for profit family recycling business serving New Hampshire, Massachusetts and Maine since 1991.
We are dedicated to the reuse of clothing and shoes collected  locally by shipping them overseas to be re-worn. Items which cannot be re-worn will be re-purposed and recycled.
Recycling works!
Since 1991, Ecosmith Recyclers has kept over 45 million pounds of shoes, clothing and household textiles out of landfills, and in circulation, while giving back over three-quarters of a million dollars to local non-profit groups.

We feel it is important to "keep it local" by assisting other local businesses in connecting with their local community and helping local non-profits in raising funds, employing local people, and paying local taxes all while supplying much needed clothing and shoes to the less advantaged worldwide, and of course "keeping it green".
With the help of our partners, sponsors and supporters….and a ton of hard work, Ecosmith has kept over 47 million pounds of shoes, clothing, and other household textiles out of the waste stream by putting those items back into circulation.We support local non-profits by paying them for materials collected in our bins.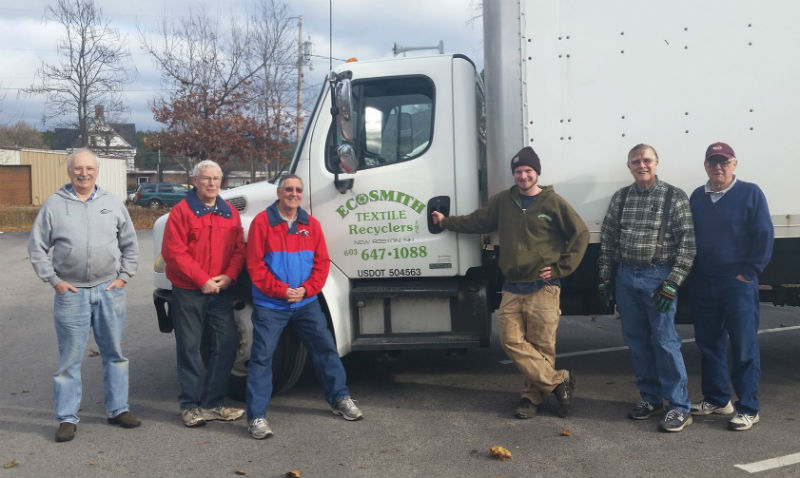 Since are inception, Ecosmith has given back over $700.000.00 to our non-profit partners, who in turn provide services to our local communities.
Please join us in our localized effort to prevent the waste of usable clothing , shoes and household textiles.
New Ecosmith Drop-off Service makes it easier than ever to donate!
Ecosmith is now offering drop-off service at our warehouse on 11 Byam Rd. in New Boston, NH.
We will unload your recycled textiles from your vehicle for you and you can choose from our extensive list of local non-profits to benefit from your donation!
Please call us at 603-647-1088 or email us at ecorags@aol.com to schedule an appointment.
Get a closer look at how we work
Ecosmith Recylers Scholarship
Ecosmith Recyclers gives out two $1000 scholarships annually to an environmental major graduating from Goffstown High School.
We feel it is important to help these students achieve their goals and after sending three of our own children through college we know every bit helps.