Ecosmith Recyclers, Inc.: Clothing, Textile, and Shoe Recycling Made Easy!
Ecosmith Recyclers, Inc. is a sustainable, local, family owned and operated, for-profit recycling business that has proudly served New Hampshire, Massachusetts, Vermont and Maine since 1991.
Thanks to the unwavering support from local communities, businesses, and non-profit groups, we are thrilled to celebrate 28 years dedicated to the recycling and re-use of clothing, miscellaneous textiles, and shoes.
Through the relationships that we have built locally, nationally, and internationally, we are able to keep millions of pounds of material out of the waste stream every year and in the hands of persons in need overseas.
Cleaning out your closet? 
Since 1991, Ecosmith Recyclers has kept over 50 million pounds of shoes, clothing and household textiles out of the waste stream and in circulation, while giving back over $1,000,000 to local non-profit groups, towns, and community organizations.

We feel it is important to "keep it local" by assisting other local businesses and non-profit groups to raise funds, employ local people, invest capital locally, and connect with local communities, all while supplying much needed clothing and shoes to the less advantaged worldwide, and of course "keeping it green".
With the help of our partners, sponsors and supporters….and a ton of hard work by our fantastic team… Ecosmith Recyclers is able to keep millions of pounds of shoes, clothing, and other household textiles out of the waste stream every year and in circulation thanks to our partnerships with groups in developing nations around the world.
Through the beneficiary program that we run alongside our bins, we area incredibly pleased to be in a position to support numerous local community organizations, schools, towns, businesses, non-profit groups, and more by returning to each of them a percentage of profits for all clothing, textiles, and shoes collected.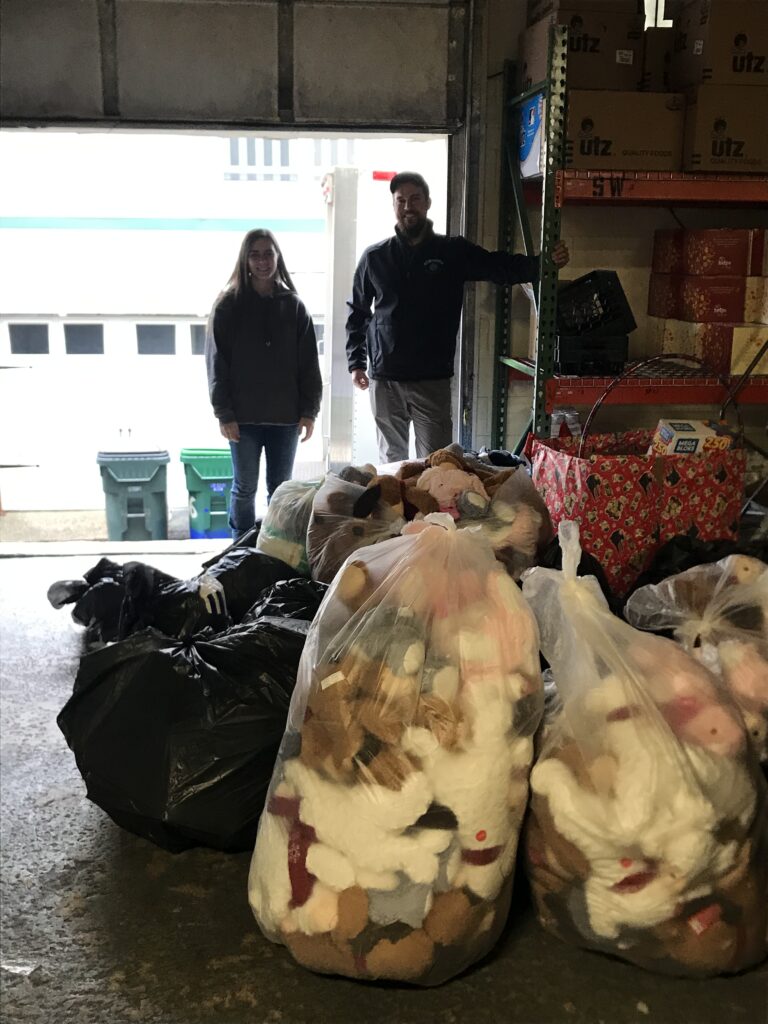 It is a cycle of giving back in which we are thankful to play a role. By committing a percentage of our profits to local communities and non-profit groups, we are able to give back to the people who make our goals and our mission a reality. They dedicate time and energy to our children, to our families, to our less advantaged, and to our planet, and in turn, we are able to contribute financially to those same causes while doing our part to keep New England a little bit cleaner and a little bit greener.
Please join us in our localized effort to prevent the waste of usable clothing, shoes, and household textiles.
Ecosmith's Drop-Off Service makes it easier than ever to donate!
Ecosmith is now offering drop-off service at our warehouse on 11 Byam Rd. in New Boston, NH.
Whether you have a car filled with clothing and shoes that you no longer need or if you have just a couple of bags, our team will happily unload your recycled textiles from your vehicle, weigh them, and then allow you to choose from our extensive list of local non-profit groups who will benefit from your donation!
Please call us at 603-647-1088 or email us at ecorags@aol.com to schedule an appointment.
Get a closer look at how we work
Ecosmith Recylers Scholarship
Ecosmith Recyclers gives out two $1,000 scholarships annually to an environmental major graduating from Goffstown High School and an additional $1,000 to New Boston Central School, which, in turn, is given out as two $500 scholarships for graduating seniors who attended NBCS.
We feel it is important to help these students achieve their goals and after sending three of our own children through college we know every bit helps.