Ecosmith Recyclers' Textile Recycling FAQ
While many people have seen an Ecosmith Recyclers bin around town, a good number of them don't have full understanding of what we do.

In short, we bring in no longer needed clothing and shoes and work to keep them out of the local waste stream and in circulation. 

We have bins set up throughout New Hampshire and into Massachusetts, Maine, and Vermont, almost all of which are readily available day and night to the public. 

But even if you know where to find a bin, questions do still arise…
Why choose Ecosmith Recyclers over the other guys?
Founded in 1991, Ecosmith Recyclers is New Hampshire's original family-owned textile recycling company. Pete and Sue Shellenberger started the company in an effort to address the issue of textiles and shoes ending up in local landfills.
Today, nearly 30 years later, they both play an active and vital role in the company's daily operations. And through their beneficiary program, they are pleased to provide financial support to local non-profit groups.
What happens to the things that I donate?
We work with groups around the world who intend to keep everything in circulation. The items that can still be worn are worn. The balance is then recycled for various other purposes.
What happens to items that cannot be worn?
After sorting out anything that can still be worn, the balance is then sorted into various categories. First, their staff will set aside the things that can be used to manufacture new clothing and shoes. Then, what remains is repurposed for use in manufacturing and industrial settings. After that, the left over textile is milled into fibers for things like soundproofing and insulation. The more rigid material like rubber from shoes is ground down to make things like playground material.
How does hosting an Ecosmith Recyclers bin work?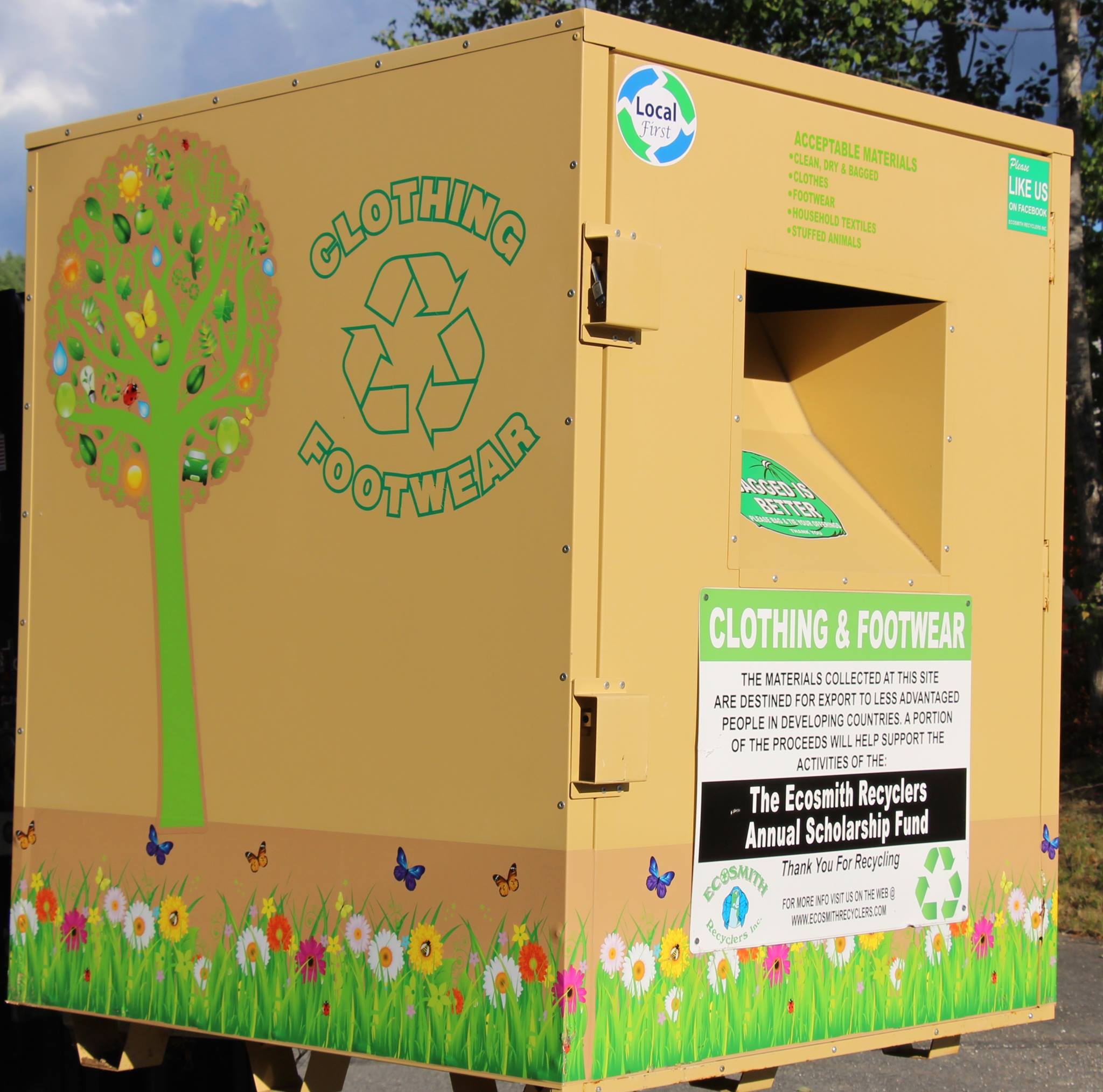 If you have a location in mind, let us know and we will look into whether or not it will accommodate a bin.
Then, if the site does work, we will make arrangements to place a quality collection bin with a sign noting the non-profit beneficiary.
After that, our team will service the bin on a regular schedule.
Last, we send out checks on a quarterly basis to all non-profit beneficiaries.
It is that easy.
What makes a location ideal for bin placement?
First, it should be visible and accessible to the general public. Second, it needs to be both safe and convenient for the public and for our staff to service.
The most ideal locations are high traffic count areas. For example, supermarkets, drugstores, gas stations, schools, churches, malls, restaurants, etc.
How often do you service the bins?
On average, we service our bins weekly. However, every stop is unique, so we modify our schedule to accommodate the situation. If a bin needs to be serviced more frequently, we service it more frequently.
Our goal is to avoid our bins filling to or beyond capacity. Should an occasion arise where items are found to be spilling out, we are available any time to both the bin hosts and the general public. Please do not hesitate to let us know.
Yes, we are fully insured and will provide a certificate upon request.
What are the bin dimensions?
Our bins measure 55″ deep by 57″ wide by 72″ tall.
If someone leaves something adjacent to the bin, who is responsible?
We take responsibility for any items left in or adjacent to our bins. All at our own expense.
How much can we expect to generate for revenue?
Our partners earn several hundred to several thousand dollars annually, although it varies based upon location.
Check out our Recyclable Materials page for more information on what we are able to process.
Check out Textile Recycling Facts page to learn more about clothing and shoe recycling and manufacturing.