Locating a recycling bin could not be any easier!
If you have out of season, out of style, or simply no longer needed clothing or shoe, we can help!

We work with groups around the world to keep those same items out of the waste stream and in circulation.
Since placing our first recycling bin in 1991, we have kept more than 50 million pounds of clothing, household textiles, and shoes out of local waste streams and in the hands of persons in need. At the same time, we have provided financial support to more than 100 different non-profit groups, schools, community organizations, clubs, and towns through our beneficiary program.
If you are not sure where to find the bin nearest you, there is no need to drive around searching. We partner with dozens of towns and communities throughout New Hampshire and into parts of Massachusetts, Maine, and Vermont. Therefore, the odds are good that your nearest bin is just around the corner.
And if you are not sure what specifically we are able to process, our recyclable materials page should prove to be a helpful guide.
We look forward to hearing from you, so please complete the form below and we will be in touch!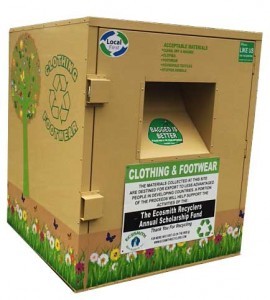 Find Your Nearest Ecosmith Recyclers Bin
If you would like to discuss something other than bin locations, check out our contact page.

We love fielding questions, so whether you are interested in donating, hosting a bin, hosting a clothing and shoe drive, or simply are curious about what we do, reach out!

We would love to hear from you!